By AK Press | April 11, 2014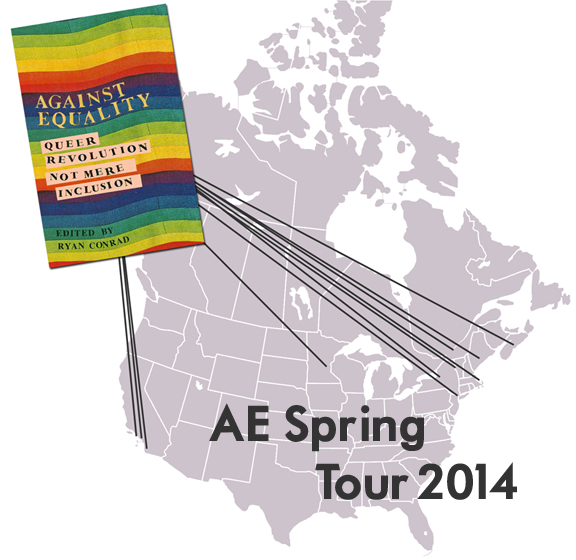 Members of the Against Equality collective have an impressive list of events lined up this spring throughout the U.S. and Canada, to celebrate the release of Against Equality: Queer Revolution, Not Mere Inclusion. If you're lucky, you can catch an event near you. And if you're not so lucky this time around, you can always get in touch with them and invite them to speak on their next tour!
SPRING 2014 EVENTS:
Apr 12 @ 10:50am: Radical Archives Conference, Cantor Film Center Theater, New York University (NYC)
Apr 16 @ 4:30pm: Kagin Ballroom, Macalester College (Saint Paul, MN)
Apr 19 @ 7pm: Bureau of General Services – Queer Division (NYC)
Apr 22 @ 4:30pm: Axinn 229, Middlebury College (Middlebury, VT)
Apr 23 @ 6:30pm: Concordia Coop Bookstore (Montreal, QC)
Apr 24 @ 8pm: Queer Possibilities Lecture Series, Alteregos Cafe (Halifax, NS)
Apr 26 @ 7pm: Calamus Books (Boston, MA)
May 2 @ Time TBA: Bates College (Lewiston, ME)
May 4 @ 6pm: Artists at Work Space, Maine College of Art (Portland, ME)
May 5 @ 4pm: UC San Diego (San Diego, CA)
May 6 @ 4pm: MultiCultural Center Lounge, UC Santa Barbara (Santa Barbara, CA)
May 10 @ 7:30pm: Stories Books & Cafe (Los Angeles, CA)
Keep an eye on the Against Equality website for the most up-to-date tour news and event information.
Topics: AK Authors!, AK News, Happenings | No Comments »
Comments
You must be logged in to post a comment.